"After experiencing our classes and reading a book a month, people become better leaders and more balanced human beings."
—Rick Griggs, Founder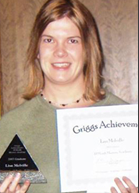 "It has given me more skills…more practice in front of the room… and leadership skills to take back."
—Lisa Melville, Legal Shield Graduate

"I loved it! It was well organized with information that will stay with me long after the Academy ends…helped me develop better habits — public speaking, reading, customer service. "
—Amy Sheele, Partners Mentoring Youth Graduate

"The Mastery Academy provided an excellent complement to 20 years of business experience..."
—Piper Aune, Hewlett-Packard Graduate, Fort Collins, CO