"After experiencing our classes and reading a book a month, people become better leaders and more balanced human beings."
—Rick Griggs, Founder
"I am so glad that I had the chance to attend your academy. I use what I learned from you every day."
—C. Shinsel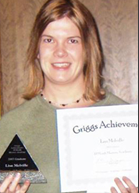 "It has given me more skills…more practice in front of the room… and leadership skills to take back."
—Lisa Melville, Legal Shield Graduate
"I began a new career halfway into the Academy… brought fantastic leadership skills to my new department."
—T. Stroh