"After experiencing our classes and reading a book a month, people become better leaders and more balanced human beings."
—Rick Griggs, Founder
"It was a fantastic experience both personally and professionally. Thank you so much for the opportunity."
—M. Brown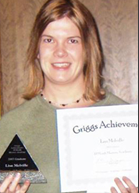 "It has given me more skills…more practice in front of the room… and leadership skills to take back."
—Lisa Melville, Legal Shield Graduate

"[The Academy] has given me new insight on how to handle work related situations… made me get out of my comfort zone."
—Tim Rische, Estes Park Graduate, Estes Park, CO