"After experiencing our classes and reading a book a month, people become better leaders and more balanced human beings."
—Rick Griggs, Founder
"[The Academy] has motivated me to initiate a leadership program among my team members in order to ensure the success of the organization. It has made us more of a team in words and deeds. I can follow better, which has, in fact, made me more of an effective leader."
—J. Kenney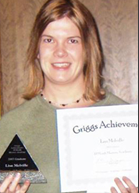 "It has given me more skills…more practice in front of the room… and leadership skills to take back."
—Lisa Melville, Legal Shield Graduate
"I am able to make more professional presentations and do so with much less anxiety. I am no longer a workaholic, yet I am more effective at work due to my improved life balance."
—L. Sampson