"After experiencing our classes and reading a book a month, people become better leaders and more balanced human beings."
—Rick Griggs, Founder
"I love the course... very enlightening and helpful to me on very many levels… incorporating my professional relevance."
—D. Paley, DVM

"It [Academy] increased my tool set. Hopefully I'm a better person and can apply these learnings to strengthen our team." "
—John Pendleton, Hewlett-Packard Graduate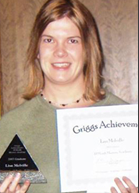 "It has given me more skills…more practice in front of the room… and leadership skills to take back."
—Lisa Melville, Legal Shield Graduate